About our history: We have been specializing in Chinese tattoo translation and design since 1999. We are one of the earliest pioneers in offering chinese tattoo symbols on the internet. Over the past years, we have had the honor to serve customers from all over the world. Read customer feedback
About our calligrapher: Tai is a Chinese brush painting artist and a skilled calligrapher with university education in both Hong Kong and North America. Her calligraphy and artwork combines both traditional techniques and creative flair.

Her calligraphy has graced the skin of many satisfied customers for over a decade. You can only order Tai's one-of-a-kind grass and brush calligraphy for your unique tattoo design here at Transname.com and not anywhere else.
About your translators: The translation team of Tai and Cheung will provide you with a translation that not only embodies the essence of the word/phrase but is also grammatically correct and sounds beautifully in Chinese. Some other sites may have standard phonetic translations for English names, with no attention paid to the meaning of the individual characters. Our team will give each name careful thought, and with your input, will come up with a meaningful phonetic translation. University educated in Hong Kong and North America, both Tai and Cheung are native speakers of Chinese, fluent in the Cantonese, Mandarin and Toisan dialects. Their mastery of both the English and Chinese languages will guarantee the most accurate and appropriate translation for you. Over the past decade, we have had the honor to serve customers from all over the world. Read customer feedback
Art of Chinese Calligraphy: Calligraphy is one of the highest forms of Chinese art. Flow, rhythm, balance, line, and structure are more perfectly embodied in calligraphy than in painting or sculpture. There are different styles ... formal, fluid, graceful, abstract, balanced, playful...and the list goes on. We offer 10 styles for you to choose from for your custom design.
About written Chinese and spoken Chinese: The same Chinese character may be pronounced differently in different dialects. There are many dialects in Chinese, with the 2 major ones being Mandarin and Cantonese. Many Chinese software offer pronunication input methods for both dialects. Mandarin (also known as Putonghua) is widely spoken in many parts of China, Taiwan and Singapore, while Cantonese is prevalent in Hong Kong, southern China, Singapore and overseas. Many words sound similar in these dialects but there are more tonal variations in Cantonese than Mandarin. Our translation team is fluent in both dialects, and thus will pick a phonetic translation which will sound right in both Mandarin and Cantonese.
Kanji and Chinese Characters:
What looks to you like a symbol is actually a Chinese character with pictorial, inferral and phonetic connotations. The Chinese pictographic system of writing was imported to Japan many centuries ago, and is known as " Kanji " (In Japanese, kan+ji = Chinese+word). Most kanjis have the same meaning as the original Chinese characters, but some have evolved over time in Japanese usage and the meanings are different from the Chinese characters used nowadays. Click here to learn more about the Chinese character
About Traditional and Simplified Characters:
Traditional characters are the standard characters with centuries of history and culture embodied in them. Our site provides traditional characters and not simplified characters, so that the form, beauty and essence of THE CHINESE CHARACTER can be fully appreciated. . Click here to learn more about the difference between traditional and simplified characters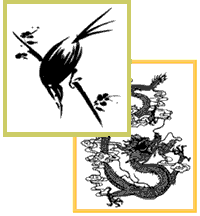 Chinese art, Dragon Symbols
---



stock characters and
stencil outlines available
---