Chinese Tattoo Appraisal
Ever have doubts about the "Chinese" tattoo on your body ? Are they Chinese words at all? Are the characters what you had meant them to be? Are they simplified or traditional characters? What actually do they mean? Has your tattoo artist done a good job in adhering to the Chinese strokes? Is your tattoo esthetically pleasing to a Chinese?

For just $6.50, you can email us a photo of your tattoo, and we will let you know if your tattoo contains any Chinese characters at all, what characters they are, what they mean , and if they are esthetically pleasing from a Chinese person's viewpoint.

Examples: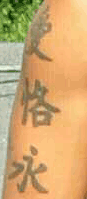 Good classic style


Good expressive grass style


Bad engrave style


Bad regular style
ORDER FORM
$6.50- delivered via email
How to Order
fill in your name and email address
click "Add to Cart" and check out
email us separately at translate@transname.com a photo of your Chinese tattoo and quote your Paypal Transaction Order Number

The translation will be emailed to you within 72 hours of confirmed payment.
---
Secure ordering via Paypal: We only accept online payment via Paypal.
Your information will be kept secure and private
Pay with either your credit card , checking acount or Paypal account
We never see your credit card number or expiration date.Only Paypal sees the information
We never see your checking account number. Only Paypal sees the information

is the number 1 online transaction service provider with . PayPal lets you pay for your order with your credit card or from your bank account without having to open an account with Paypal. Just click on the paypal shopping cart buttons. You will then be able to complete your order or continue shopping if you choose. Please note that our shopping cart is set up for PayPal orders only.
See Help on the PayPal site for more info. Orders processed through Paypal will be delivered within 72 hours of confirmed payment.

---
---

© Transname.com

All prices quoted in US Currency.