Chinese Translation
It is not machine translation ...it is human translation !
It is not just any translation...it is quality translation !
Translation of your words or phrase into Chinese characters / symbols for tattooing, as a logo, or as a GIF file to be used on your websites.
Phrase Translation: Many Chinese idioms are expressed concisely in 4 characters, 5 characters or 7 characters. We will try and translate your phrase into this format and see if there is a closest matching idiom. If there is no matching idiom, we will translate it into a concise poetic phrase.
Word Translation: translation of a maximum of 3 words.
Calligraphy Styles: You can choose from 10 different styles (classic, brush, fluid, grass, old, emboss, slim , pictorial, engrave and cursive). See different calligraphy styles




Supplementary services:
Stencil outlines: add $2 for the outlines which are especially useful for tattooing . See sample
Pronunciation audio file: add $5 to receive a wav file of the Chinese pronunciation in both the Cantonese and Mandarin dialects . The same Chinese character may be pronounced differently in different dialects. There are many dialects in Chinese, with the 2 major ones being Mandarin and Cantonese. Many Chinese software offer pronunication input methods for both dialects. Mandarin (also known as Putonghua) is widely spoken in many parts of China, Taiwan and Singapore, while Cantonese is prevalent in Hong Kong, southern China, Singapore and overseas. Many words sound similar in these dialects but there are more tonal variations in Cantonese than Mandarin.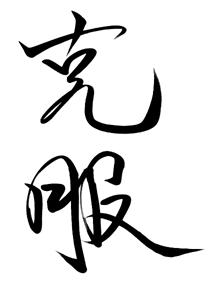 (example: grass style)
---

See feedback: We strive to keep our customers satisfied with fast and quality service. Read our customers' testimonials.

About your translators: The translation team of Tai and Cheung will provide you with a translation that not only embodies the essence of the word/phrase but is also grammatically correct and sounds beautifully in Chinese. University educated in Hong Kong and Canada, both Tai and Cheung are native speakers of Chinese, fluent in the Cantonese, Mandarin and Toisan dialects. Their mastery of both the English and Chinese languages will guarantee the most accurate and appropriate translation for you.
About your calligrapher: Tai, is a Chinese brush painting artist and skilled calligrapher with university education in both Hong Kong and Canada. She is a native speaker of Chinese, fluent in both Cantonese and Mandarin dialects. She also tutored under the late Master Lai who was a renowned artist trained by the grand masters of Chinese painting, the late Lin Feng Mian and Pan Tian Shou. Her calligraphy and artwork combines both traditional techniques and creative flair.

You can only order Tai's one-of-a-kind grass and brush calligraphy for your unique tattoo design here at Transname.com and not anywhere else.
About our history: We have been specializing in Chinese translation and design since 1999. Over the past years, we have had the honor to serve customers from all over the world. Read customer feedback
You can now purchase Tai's Art Prints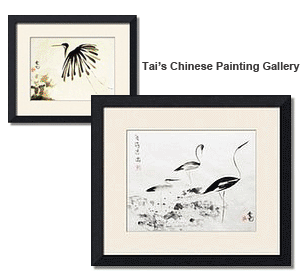 ---
---
About the Chinese character: Chinese writing dates back to over 5000 years ago. Chinese characters evolved from pictographs to more abstract ideograms to the modern-day character, which bears a slight resemblance to its pictographic origins. The characters are divided into 3 main categories : pictographs , ideograms , phonograms . Each character is a word by itself, and is written in a flowing and balanced way.

You will notice that your browser has the option of viewing Chinese characters in Traditional or Simplified forms. Some other sites provide your translation in simplified characters which are abbreviated forms which might not be recognizable to all Chinese . This site provides you with standard traditional Chinese characters which are not only recognized by Chinese but also by Japanese and Koreans.

Why are there traditional and simplified characters? Traditional characters are the standard characters with centuries of history and culture embodied in them. In an effort to wipe out illiteracy, the Communist government in China introduced in 1956 a system of simplified characters which were easier to remember than the intricate traditional characters. The intention was good, but the result is devastating. Over 2000 Chinese traditional characters have been changed by the government into the simplified form by reducing the number of strokes, and thus changing the entire form and balance of the character. (see example to the right)

The webmaster is against this mutilation of the Chinese character and annihilation of our Chinese culture. The characters provided by this site are all traditional characters so that the form, beauty and essence of THE CHINESE CHARACTER can be fully appreciated.
Custom Calligraphy Design: You can choose from 10 designs for your translation.
Style 1 (Classic) is a traditional brush stroke style prevalent in use from the ancient times to nowadays.
Style 2 (Cursive) is an elegant cursive style highlighting the intricacies of Chinese brush calligraphy.
Style 3(Fluid)marked by its fluidity, also known as the running style.
Style 4 (Grass) is a unique flowing style which is like "walking on grass", handwritten by the webmaster. You will not find this one-of-a-kind calligraphy anywhere else.
Style 5 (Old) is the clerical style originating from the Tsun dynasty (230 BC).
Style 6 (Emboss) is a design by the webmaster combining the techniques of traditional calligraphy and modern computer design.
Style 7 (Slim) is known as Shou Jin Shu (Slim Gold Style), the signature calligraphy of Emperor Sung.
Style 8 (Pictorial) stems from original Chinese oracle scripts with a pictorial inference.
Style 9 (Engrave) represents the Ngai Bei stone engraving style .
Style 10 (Brush) is intricately done by hand with the Chinese brush. This custom design by the webmaster is one-of-a-kind.
All of the above styles are designed to blend seamlessly with our Chinese folk art designs.


Which is your favorite calligraphy style?
Style 1:
Classic style


Style 2:
Cursive style


Style 3:
Fluid style



Style 4:
Grass style





Style 5:
Old style





Style 6:
Emboss style


Style 7:
Slim style


Style 8:
Pictorial style


Style 9:
Engrave style


Style 10:
Brush style


---
---

© Transname.com
All prices quoted in US Currency.