It is not machine translation ...it is human translation !
It is not just any translation...it is quality translation !
About our history: We have been specializing in Chinese tattoo translation and design since 1999. We are one of the earliest pioneers in offering chinese tattoo symbols on the internet. Over the past years, we have had the honor to serve customers from all over the world. Read customer feedback
About our calligrapher: Tai is a skilled calligrapher with university education in both Hong Kong and North America. Her calligraphy and artwork combines both traditional techniques and creative flair.Her calligraphy has graced the skin of many satisfied customers for over a decade. You can only order Tai's one-of-a-kind grass and brush calligraphy for your unique tattoo design here at Transname.com and not anywhere else.
About our translators: The translation team of Tai and Cheung will provide you with a translation that not only embodies the essence of the word/phrase but is also grammatically correct and sounds beautifully in Chinese. Some other sites may have standard phonetic translations for English names, which sound correct but are often meaningless. Our team will give each name careful thought, and with your input, will come up with a meaningful phonetic translation.

University educated in Hong Kong and North America, both Tai and Cheung are native speakers of Chinese, fluent in the Cantonese, Mandarin and Toisan dialects, thoroughly proficient in English, with some knowledge of the Japanese, French, Italian, Spanish and German languages. Based in North America and in tune with the present trends and culture, their mastery of both the English and Chinese languages will guarantee the most accurate and appropriate translation for you.
About our consultant: Chang, with a master degree in Chinese literature from the University of Chinese Culture in Taiwan, serves as our special consultant and is our source of expert knowledge and enlightenment.
Translation orders: All image files will be emailed to you within 72 hours of receipt of payment.
---
---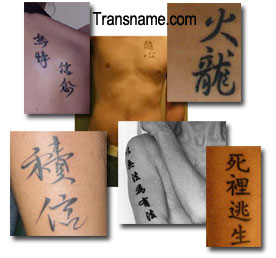 View Tattoo Pics
submitted by our clients

---
---
Raving reviews from our customers
from all over the world:
Absolutely beautiful! I am extremely impressed with the care and service I received from an online company. It was better than most stores you walk into. And the calligraphy is stunning. I took it to a friend to check that it says what I wanted it to say and her first word was, "wow." Now my only problem is trying to figure out what else I want so I can order more!- Colorado, USA
Thank you for your prompt reply. We, the US Marine Corps , use your service to verify the content of tattoos for men and women who wish to enlist into the Marine Corps. Your timely and accurate reply to our request has facilitated in yet another young man in becoming a United States Marine. Thank you for your service. Have a nice day. Semper Fidelis - Us Marine Corps, Lufkin, Texas United States
I truly appreciate your prompt reply and outstanding service. I have forwarded your translation and suggested our recruiters bookmark your website for future use. Thanks again for the outstanding service . Technician Chief of Staff, Air National Guard, USA
What can I say except that I'm extremely pleased with my name translation. I was looking for something in Chinese that would be personal to me because after all that's what a tattoo is all about and that's just what you've done for me. It looks fantastic and the meanings are good too. Thanks very much - and excellent job well done. Worth every penney!! - Cardiff, S Wales , United Kingdom
Without having any knowledge of the chinese language I was expecting an exact translation. Your explanation has both educated me and satisfied my request . Your service will be recommended for both quality of service as well as speed of reply. Regards, - Amherstburg, Ontario , Canada
Thank you for all your help, I had written numerous emails to another site. They never got back to me, as i became frustrated i found your site. You are professional, helpful and very friendly to work with. I am very happy with the quality of work you have done for me as this will represent my school name across my shirts. respectfulhands.Your work will be on my web site as well- Sifu Giuseppe Aliotta- Shaolin Kung fu - West Coast Martial Arts Academy -Encinitas, California, United States
I am so very pleased with the translations you have provided me. I especially appreciate your honesty about how certain words cannot be translated word for word. Your work to get the phrases as close to there original meaning and your explanation is impeccable. This says alot to me about your integrity. Thank you so very much for all your work. I'll be back. Philomath, Oregon ,USA
Very very happy. I can see myself returning to this site again and again. I already have a phrase that I'm going to get translated in the not too distant future. Had searched the net for sites containing ideograms, and finding you was well worth the wait and effort. I have (even before I received these emails) told so many friends about your site as a gesture of my appreciation, and my confidence in your work. Thanks so much Tai. P.S Stoked to get these today as it's Australia Day over here and I'm about to go to a huge BBQ where I can show a heap of mates. Try and drum up some more business for you! Love your work Tai. These name transations can be the perfect gift for anyone when you are stuck for ideas for Birthday's etc. Whether used for tattoos or simply printed onto paper and framed, they will look great. Cheers and kind regards. -Coolangatta, Queensland , Australia
Thank you for the fast delivery and the very good service. I'm very satisfied and like to recommend you to everyone -Bad Zwischenahn, Niedersachsen , Germany
I cannot tell you how happy, satisfied and impressed I am with the the translations you did of both my daughters' names. They are whimsical and simply beautiful. I am extremely thankful I found your service on the web. Once I've had the actual tattoos done (hopefully this weekend) I will send pics to you. I have shown several co-workers the images, and all have stated how beautiful they are. Thank you so much for your promptness in replying, and the obvious individual attention you put into each of the translations. As these images, once tattooed, will become a permanent part of my body that I'll wear for the rest of my life - it's so wonderful to know that the translations are correct, meaningful and the fluidity of the images- artful and appealing. Again - many thanks, and God bless! Miami Gardens, Florida , United States
I have used your website twice now and have been extremely happy with the service you provide. Response to my orders has been quick both times and I was very grateful of the little explanation on how you translated the names. I have since had one of the symbols I requested tattooed on my back and love it to bits. Keep up the good work as I'm both interested and enjoy looking at the website! Aberdeen, Aberdeenshire , United Kingdom
Thank you for your service. I liked very much the translation you did... Thank you for your promt response. - Valinhos, Sao Paulo , Brazil
Thank you for the beautiful translation and for having it done so quickly. This is for a tattoo that I want to have done with my two son's names in Chinese. After consulting with my tattoo artist, he recommended that I have a couple of translations done for their names just to make sure that what I am having for a tattoo is accurate. I had originally had the translations done by another translator and then requested your services as well to make sure what I had was accurate. I know that it is a phonetic translation so there is some room for interpretation, but as this will be a tattoo that I will have, I really want to make sure that I understand how the meaning was derived. Thank you for the clarification. I have a much better understanding as to how the names could be translated differently. The other translator that I spoke to said that he uses a very literal translation and that the symbols have no meaning associated with it in Chinese. I ended up using your translations for my tattoo because the meanings that you chose for my son's names described their personalities perfectly! They were not only beautiful to look at but they had the meaning that I was looking for. So, thank you so much for your help in getting me exactly what I wanted. I would definitely recommend you to anyone I know who wanted to get a beautiful and meaningful translation for a tattoo! Thank you so much for your help. Placerville, California , United States
Thank you very much. I have read the reviews from some of your customers on your web page and I am another happy customer. I will be sure to not only use your service in the future but also educate others about your company. Auckland, New Zealand
I would like to thank you for your excellent and very prompt work. I know of no other service that offers the same level of excellence that you do. I have been hoping for some time to get a correct translation of the three words I received, yet always worried about getting the wrong translation, etc. After visiting your site, reading customer reviews, as well as background information on yourselves, I am confident in your work. I was also impressed by the style. It looks wonderful! Thanks for going to such lengths and offering top quality service. It is greatly appreciated. I will most certainly be passing on your website to others.Fort Nelson, British Columbia , Canada
Thank you for the translation. You were very prompt in responding with the translation, it fit the parameters I asked for very well, and the Grass calligraphy is unbelievably beautiful -- it might be the most beautiful calligraphy I've ever seen. A suggestion for your website -- I would feature the Grass calligraphy more prominently, and maybe also discuss more the history or the aesthetic meaning behind all of the styles. Thanks again. Los Angeles, California, USA
I am very satisfied. Thank you. The characters looked beautiful and I also showed them to several Chinese people (from China) and they all said it was a beautiful phrase, had deep meaning, was written well, and the calligraphy great too. For something that will be on your body for life you want it right. It seems like you took the time to do so. - Rutherford, New Jersey , USA
Thank you for your great service. I was so impressed that I have made a second purchase now. Thanks again! Kwazulz Natal South Africa
I really like the translation! The grass style is really beautiful. I am considering buying other styles as well. Furthermore, the delivery was really swift. Price is absolutely oke! Zuid-Holland Netherlands
thank you so much for the translations, I loved the way you rearranged the phrase, it is very beautifully put together. I also love how both translations look. They are simply beautiful. I will definitely recommend your company to everyone who are looking for the type of service you provide. Your service has made me much more confident about getting my tattoo. Once again thank you and i will definitely be needing your service once more -Brooklyn, New York, USA
Thank you for the images - especially the one you put twice because of the two different meanings. As for the service, I am very satisfied - it was faster than I expected it to be. -Plessis Belleville, Oise , France
Wanting to send a note to say THANK YOU for the translation that you prepared for me. I have had the translation tattooed on my back from just above my collar bone down my spine. It's exactly what I wanted, I get lots of compliments and questions on what it means, and I am very happy with it. I greatly appreciate your assistance! Edmonton , Alberta , Canada
I cannot even describe my satisfaction with the awesomely beautiful calligraphy. I am even more pleased (if that's even possible) with your unmatched customer service. I've used other websites for the purpose of translation for my tattoos as well as all of my martial arts students and none even compares to the beauty of your writings as well as your customer service. you have definitely got a loyal customer here for a long time. -Mesquite, Texas ,USA
Ahhh, thank you for that. You have been most helpful =) - Ronneby, Blekinge , Sweden
Thank you very much for the quick response and detailed outline of my last name. It is very interesting on how my last name is traced to different regions of China. You are absolutely correct about the part of emigration of my family... Thank you for your time and effort.........aloha and thank you from hawaii Honolulu, HI , USA
Thank you so much for your incredible work! Excellent Quality! No Doubts I will request your work soon! Once Again! Costa Rica
Thank you so much for this, it is exactly what I was looking for. My boyfriend's grandparents were Chinese and when he wanted to get a tattoo I suggested that he get something to represent his heritage. After a lot of research I found the phrase 'Descendants of the Dragon' which is what Chinese people are referred to. He originally wanted to get a picture of a Dragon, but wasn't too sure. When he heard the phrase he loved it and decided that is what he wanted. Now the trouble was to get it correctly translated to hold its meaning which is the most important thing. The service you offer is fantastic and with the jpeg & gif files I know I will get the tattoo exactly correct as they will use what you have supplied as the stencil. As soon as my boyfriend saw the image & read how it translated he said it was better than he expected. He was thrilled. He is so keen to get his tattoo he is booking in to get it done straight away. Thank you so much for your assistance, this really meant a lot to me and my boyfriend! New South Wales , Australia
Click to see more .
---